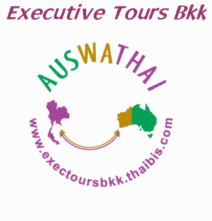 Bangkok, is known as "the Venice of the East, (so called because of the many canals)
I'll bet that most of you don't know that Bangkok is simply the name used for foreigners, it isn't the real name,  Thais know it as "krungthep", however the correct name is:-
Krungthepmahanakorn Amornrattanakosin Mahintrayu thethaya Mahadilokpob Noparat Rajataniburirom Udomrajanivej Mahasatharn Amornpimarn Awatarnsatis Sakatadtiya Wisanukamprasit. The name is abbreviated as Krungthep or Krungthep Mahanakorn, which means City of Angels. The name 'Bangkok' was derived from 'Bang Kork' and refers to the original site.
"BangKok" means "Village of olives" (Bang means village and Khork means Olive), in time the olives trees vanished as city the expanded.
The city was founded in 1782 by King "Rama I" who moved the capital from Thonburi across the Chao Phraya river in order to use the river as a line of defense against the Burmese.
If you hear of people talking of the "old city" it usually means "Thonburi" and not "Ayutthaya".. 
more on history
The Thai name for Bangkok has been recognized as the longest place name in the world and even most Thais couldn't tell you what it is. The full name of Bangkok contains 170 characters and I'll bet you can't pronounce it. If you can then you will be able to really shock some Thais next time you visit Bangkok. So without further ado here is the Bangkok full name both in Thai and transliterated into English:

(กรุงเทพมหานคร อมรรัตรโกสินทร์ มหินทรายุธยา มหาดิลกภพ นพรัตนราชธานีบูรีรมย์ อุดมราชนิเวศน์มหาสถาน อมรพิมานอวตารสถิต สักกะทัตติยวิษณุกรรมประสิทธิ์)
Krungthepmahanakhon Amornrattanakosin Mahintharayutthaya Mahadilokphop Noppharat Ratchathaniburirom Udomratchaniwetmahasathan Amornphiman Awa-tarnsatthit Sakkathattiyawitsanukamprasit
The interesting thing is the real name of Bangkok is something like a story about the city, or perhaps a history of the city, the translation of Bangkok's name: 
The Capital City of Angels, The Residence of The Emerald Buddha, The Great City of Impregnable, The Gracefulness of the city is steadfast and thriving, The Grand Capital which is abundant with The Nine Noble Gems, it is a Pleasant Capital, The City is abounding with the enormous Royal Palaces that resembles as the heavenly abode where reigns the reincarnated God, Home of the Gods Incarnate, which was Erected by Vishnu at Indra's Behest
So, there you have Bangkok's real name and the meaning of the name. If you have nothing to do this weekend why not take the time to memorize it; I think it would be fun to pull out from time to time just for the shock value