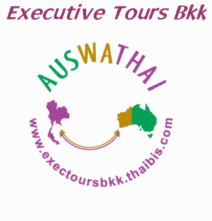 Tourism 
Bangkok
so ENORMOUS!
and yet so friendly!!!! ...
Despite its modern trappings, Bangkok is firmly embedded in tradition.  All aspects of Thai culture are revered here, rituals are carried out on a daily  basis.
In Bangkok you can at one moment be in the 21st century, the next walking through antiquity
from Street Food (Pang Loi) to 6 star Elegant Dinning
Push bike rides through Town or super sonic river cruise boats
Stunning Hotels to Exotic nightlife for him or her or heshe 
Motor bike taxi or tuk tuk ride through traffic chaos 
21st Century Skytrain
Ancient city and temples

The Basics
General information including Regions,
Travel information including pre flight planning,
Thai language - online lessons and printable manuals
Most Popular Symbols of Thailand ..
read more
Travel info .. stuff you should know ..read more
Fastrack
Don't have time!  call us for a QUICK chat. 
We can give you a quick fix, tell us your objectives.
We don't sell, we consult, on a genuine value added Service